Peak MSK Physiotherapy - Get Active this Summer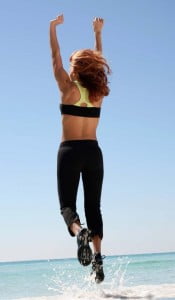 This issue of Physio for you contains:
Strength training is a crucial factor in losing fat. Not only does it make your body and bones stronger, it also helps to raise your metabolism so you burn more calories all day long.
Cardio like strength training is essential to building endurance and making your heart  strong for summertime activities. Choose activities you enjoy and make sure you get your heart rate up. If you are unsure as to an appropriate heart rate, ask your physiotherapist.
How Physiotherapists Help You
We can recommend exercises that are designed specifically for you to achieve your desired level of fitness.
Preventing Sports Injuries
Sport is a vital part of the Australian lifestyle – it promotes good health, stress relief and is fun. Sometimes injuries may occur through sport. Fortunately most injuries can be effectively treated by your physiotherapist.
​Read more about these by downloading the PDF and remember to contact us so we can answer any questions you have about any of these areas.