Pilates is a mind-body exercise that develops mindful attention and control of posture, flexibility, strength and breathing. First started by Joseph Pilates around the early 1900's, it has since developed as a tool to be used by osteopaths, physiotherapists and trained instructors. Many practise pilates with different goals in mind. Some do it for strength, balance and core to name a few. Clinical pilates is used as a form of treatment in order to help you and others move better. Have a read below, to get the full idea behind clinical pilates.
What is Clinical Pilates?
Exercise can come in many different forms, with the aim of achieving many different goals. Exercise can have a focus on strength, power, endurance, mobility or a combination. Those are just a few of many different exercise goals people choose to focus on. Where clinical pilates fits into these categories, is to improve movement and function. Clinical pilates has the aim of making you move better through exercise. While some exercise classes and even some pilates classes have a focus around core strength, at Peak MSK Physio, clinical pilates is one way we use to making you move and stay better.
So, I bet you're wondering, what does it look like? Well, pilates can be performed in a variety of ways. There is mat pilates where exercises are performed on the floor. Then there is reformer based pilates, which is a machine designed purely for pilates based exercise. Lastly, there is the trapeze based pilates exercises, which is the bigger machine utilised in pilates treatment.
While there are 3 different varieties, all 3 have the same goal in mind, which is to make you move and feel better. You may be wondering which method is best for you. This is determined through finding what professionals call, "directional bias." To put it simply, it's finding the directional preference your body wants to move in. For example, some people feel more comfortable walking more upright, while others might prefer walking in a more hunched position. Clinical pilates gives in to the direction your body wants to move, and studies on it have demonstrated some promising results.
There have been many studies using pilates as a form of treatment for those suffering from chronic pain (longer than 3 months), in which there was improvement in overall function and movement. A study on patients suffering from chronic low back pain displayed positive results utilising clinical pilates as a form of treatment (1). Patients in the study displayed improvements in pain levels, function and quality of life. A further study by Lim et al displayed similar findings, that pilates can be a beneficial form of exercise and treatment (2).
"Move and stay better"
What is The Goal of Clinical Pilates? Strength? Core? Balance?
While some forms of studio pilates might help with achieving that six pack you've always dreamed of, it doesn't necessarily mean it is going to help you perform, move or feel any better with your pain. What separates clinical pilates from studio pilates, is the goal and approach to exercise. Clinical pilates is tailored specific to you and isn't a one size fits all approach, like some other forms of exercise. If we gave everybody the same exercises for different injuries, it might help some but it also wouldn't help everyone, and in some cases, make others worse.
At Peak MSK Physio, we have you undertake an initial assessment to determine whether you are suitable for clinical pilates, or if you require another form of treatment. As mentioned earlier, the goal from here is to determine your directional bias. That way, we can give you exercises which we know are going to make you feel and move better. Which is what we come back to, the goal of clinical pilates. Efficiency of movement, pain free movement and improved function are all different ways to describe the approach of clinical pilates at Peak MSK Physio.
So do not expect to come into the classes for a high intense physical workout. As challenging as some of the exercises can be, the goal of the exercise is to have you feel and move better. While strength training can be a great form of exercise to accompany pilates, it isn't what we are training here at Peak MSK Physio pilates classes.
"the goal of the exercise is to have you feel and move better."
Who Can Participate in Clinical Pilates?
The good news is that anyone and everyone can participate in clinical pilates. The individuals that will benefit most are people who suffer persistent (or chronic) pain sufferers. Usually those with some form of chronic pain have attempted all kinds of therapy from chiropractors to osteopaths to physiotherapists, all to experience some improvement but not anything significant. This is where clinical pilates comes into play. If the routine and usual form of care has not managed to make a significant impact after all these years, clinical pilates could be the option.

There is research to support that those suffering from chronic pain are perfect candidates for clinical pilates (1), (2). If you have tried the usual massage, exercise and manipulation treatments to no avail, then why not try pilates. The exercises, while challenging, are aimed at improving your overall function and pain. It can take time to show positive results, but most patients show better movement patterns within each treatment session.
You also might be someone who struggles with balance, coordination or have movement patterns which aren't necessarily beneficial to your overall function. Clinical pilates can help improve these factors and have you moving more effectively.

Clinical pilates has also been utilised in many elite sporting professions around the world. AFL players, premier league soccer teams, basketballers, rowing teams and many different Olympians have trained for their sports utilising clinical pilates. As pilates can help with improving movement and efficiency of movement, athletes post pilates intervention are able to move better within their athletic performance.
What is the difference between Reformer and Mat Pilates?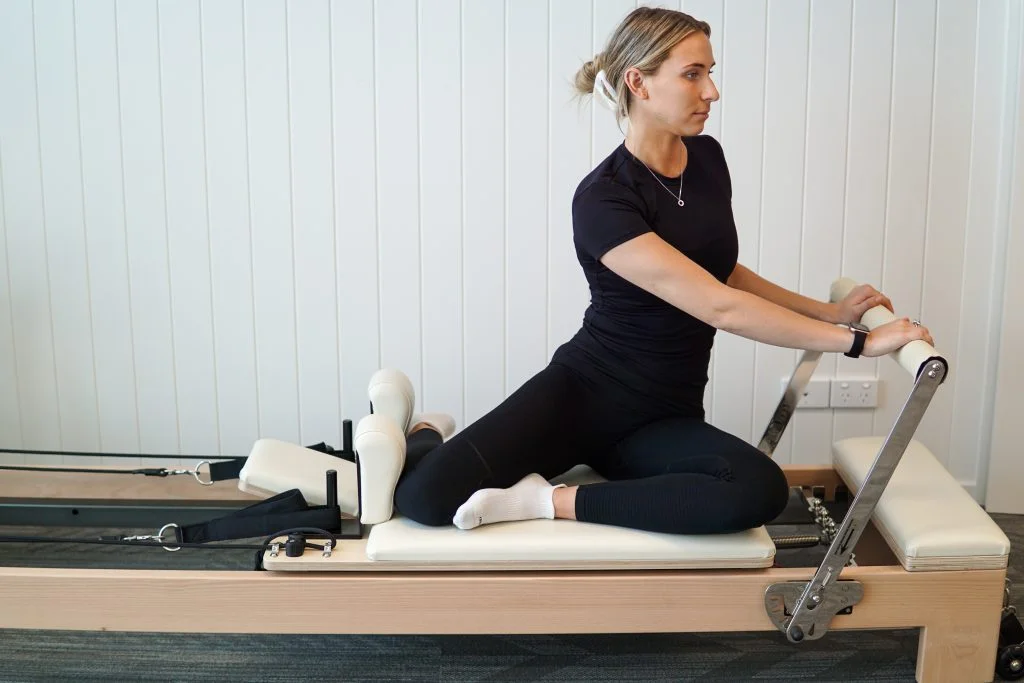 Most studio and group pilates classes utilise the reformer machines, however, one is not superior to the other. The benefit of the reformer is the ability to utilise a wider variety of exercises to help you move better. The reformer also has the ability to make exercises more challenging when you develop towards later stage movements.
Starting with the mat is a good starting point for first time pilates patients. Most of the assessment, and examination will be performed via matwork. Mat exercises are also best for people to do at home, as most individuals do not own a studio level pilates machine in their own home. That way, we can send people home with exercises in which they can continue to improve and move better away from the clinic.

The reformer can also be used in early- stage exercises, as there are very basic level movements which can be done on the machine. As people progress and begin to move better through some early matwork and early stage reformer exercises, the difficulty can be increased via the reformer too. As the reformer has more challenging elements to it like the spring loading to increase resistance and ankle straps, the exercises can start to incorporate more full body movement, and become really useful for progression.
What Exercises are there?
So I bet you're wondering, how many exercises are there and which ones will be right for me? Well that will depend on your directional bias and what way your body likes to move. Below, you can see a few examples of different exercises that are flexion based, extension based and rotation based.
Extension Bias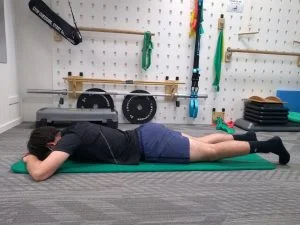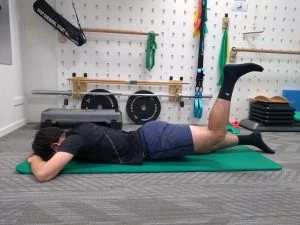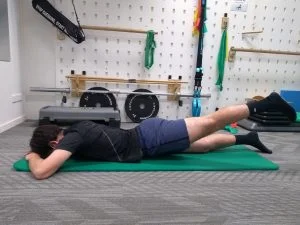 Flexion Bias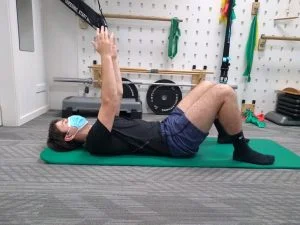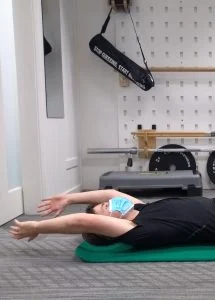 Rotational Bias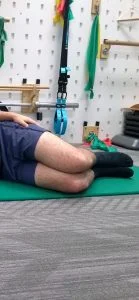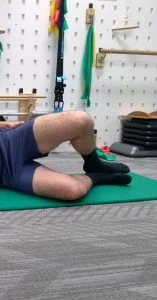 Section: FAQ
How Long Are The Classes?
The classes will run for 45 minutes, and will contain groups around 3-4 people. Not everyone will do the same exercises, as people within the group are likely to have different movement preferences.

Who Takes The Classes?
Callan Gregory who is the osteopath at the Peak MSK Physio will be running the classes and taking the initial assessment. He has a sporting background and has undertaken extra training in the field of clinical pilates.

How Many Times a Week Will I Need to Attend?
In order to get the best results, attending classes 2-3 times per week will allow for the best results. That way, we can monitor whether you are progressing or regressing with your overall function and movement, to ensure you are getting the best treatment.

What Should I Wear?
Clothes that are comfortable and easy to move around in are best suited to clinical pilates. As the exercises are done without shoes on, footwear will not be a concern.
Clinical and Reformer Pilates in Cheltenham
Now it is time for your to take your health and recovery journey further. We are all athletes in our own space and the Peak MSK team are ready to work with you to up your game! Look out for our offer as we roll out the classes in March 2023!