Manual or manipulative therapy is a structured, highly specific and dosed treatment for various bodily structures and systems, including joints, muscles or nerves.
The methods used are determined from your diagnosis and tailored safely to your need for pain relief and better movements. This includes various types of passive movement applied to you in the session such as manipulation ( a single motion with a harmless pop or crack sound), mobilisation (repeated motions), stretching and massage. Some treatments combine movement from you as a patient with an addition of a treatment technique at the same time. Equipment is used and can be taught to you as a home self-treatment.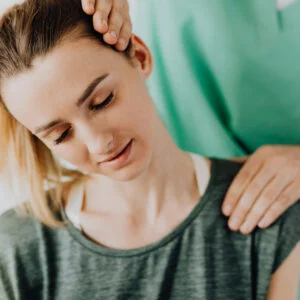 This form of treatment results in local relief of pain, but can also be widespread to other areas of the body, with research results of improved muscle activation, positive stimulation to the nerve system, via endorphin release, scar tissue softening and improved joint range (1). Positive benefits in pain relief and improved function can be prolonged with supplementation with specific exercises targeting the cause of the problem.
Manual therapy is not a stand-alone treatment and your Physiotherapist will make recommendations for a multidimensional, or combined treatment approach. This includes not only specific exercise, but a framework of treatments that can include lifestyle management, ergonomic advice and where recommended; medication and counselling. The whole person is better treated with this approach.
1) Pain Manag. 2015 5(6)