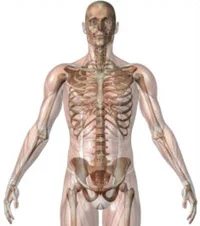 As physiotherapists, we treat a number of musculoskeletal conditions – a broad term that encompasses damage to bones, muscles, ligaments, tendons and nerves. Because these conditions are so wide ranging, they affect from children (as in juvenile rheumatoid arthritis) to the elderly (as in
osteoarthritis
) and everyone else who may suffer an injury.
​
Other conditions which fall under this heading include carpal tunnel syndrome, muscular dystrophy, fibromyalgia and osteomyelitis (bone infection), to name a few. Many patients recover their strength and ability to function again through
physiotherapy
treatment.
The overriding symptom of all these conditions is pain. In the case of an injury that affects the bone, or in osteomyelitis, this type of pain is more severe than muscle pain. Tendon and ligament pain, as occurs in tendonitis, is less severe than bone pain. Chronic pain may accompany the musculoskeletal pain. This is chronic pain and is real and can be debilitating if not managed.
Some conditions may cause pain by compressing a nerve. Carpal tunnel syndrome is a repetitive strain injury that compresses the median nerve, causing pain and a burning sensation along the course of the nerve. In fibromyalgia, the pain is widespread and the locations difficult to pinpoint.
As your physiotherapist in the treatment of all musculoskeletal conditions, we not only treat pain, but also deal with the accompanying muscle weakness, loss of stability and decrease in functional use of the body part. Pain may be treated with deep heat such as ultrasound, electrical stimulation and transcutaneous electrical nerve stimulation (TENS), or manipulation. Cold packs may be used initially with pain resulting from an injury.
The importance of exercise in dealing with musculoskeletal conditions can never be overstated. Exercise improves flexibility, promotes movement, and increases blood flow to the area. It also helps to reduce pain. Strengthening exercise is important to restore function and condition to weak muscles.
In severe cases such as arthritis and muscular dystrophy, it may be necessary to provide walking aids or wheelchairs to assist with mobility. If the condition has resulted from a work or overuse injury, we can advise on proper ergonomics or modifications to your technique.
​
After surgery, the best means of treating these painful conditions once the patient is medically stable, is with physiotherapy. It completes what surgery or any other previous medical intervention began, and helps you become as independent as possible. Come see us, your specialist musculoskeletal physiotherapist in Bayside and we will help you on the road to recovery sooner than you think.