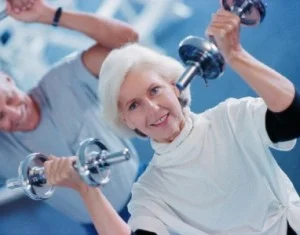 This post could also be called 'A Physio Tailored Exercise Program for the Elder Athlete' but it isn't as catchy….
Some people are able to remain active well into their 50-60s, however, for them, the risk of injury is always imminent. As we age, wear and tear begin to limit how much we do. Our muscles become less elastic, our joints less flexible, our bones less strong and our reaction times less precise. It is true that exercise slows the ageing process, however, very vigorous training can expose the older athlete to the risk of overuse injuries.
Overuse injuries become more common because we take longer to recover from exercise. Thus tendinopathies, bursitis and joint pains are more common. Often the injury makes movement coordination (motor control) change and this can further aggravate the overuse injury. These situations may further deter you from pursuing an active lifestyle. Your physiotherapist can assist with a tailored exercise program to control loading (reduce overload/overuse) and enhance recovery.
In order to remain active and enjoy the benefits that exercise brings, even in the later years, you still need to move. Motion is the lotion folks! As your physiotherapist, we can design a program to treat and accommodate healing from an overuse injury. You do not have to abandon physical activity any longer because of pain or stiff joints. Resistance training not only strengthens muscles but bones as well. Eccentric exercise programmes help deal with tendinopathies. Motor control exercises work to retrain efficient movement and posture. This allows you to load your body economically without injury. Stretching exercises will increase your flexibility and also help prevent overuse injuries. Aquatic therapy, yoga and tai chi can do wonders for the elder athlete who needs to maintain fitness, balance and coordination.
​
Another action you can take is to switch activities for a while to allow your joints to rest and recover. For example, if you used to run, you can switch to cycling, swimming or walking. These provide the aerobic workout you need for cardiovascular fitness, so important to the ageing athlete. If your body is beginning to show the signs of ageing and you are worried that your days of active sport may be over, come in and speak to us. We are here to help. Contact your Specialist Musculoskeletal Physiotherapist in Cheltenham on (03) 9533 5305 to discuss any concerns you may have.