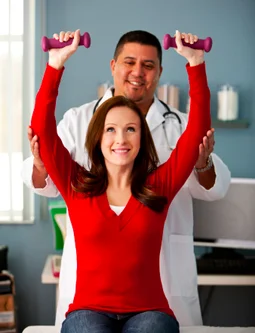 Sports injuries
, breathing problems, long-term pain (e.g. arthritis) and other ailments are agonising and frustrating. We all wish that there was some kind of "silver bullet" that could cure us in a flash. Ask your
physiotherapist
questions for better results to return to normal movement because unfortunately, there is rarely a quick fix when it comes to the human body and restoring full movement. Thanks to trained specialised physiotherapy professionals, even the most severe of injuries can be overcome with personal dedication and the right attitude.
That being said, be prepared to ask important questions prior to and during your treatment.
Specialist Musculoskeletal Physiotherapists
are well educated, highly-qualified, competent and stay abreast of the latest research and techniques to meet high standards of professional care. However, they need your full involvement to meet your needs. A good way to maximize your recovery prospects is by discussing pertinent issues with them.
After setting up an appointment, what should you ask a specialist musculoskeletal physiotherapist upon first contact? Here are four questions that can help you decide who to entrust your health to:
Can you explain my condition in plain language, please?
What are the relative risks and benefits of your proposed treatment (e.g. surgery versus conservative treatment)?
How does your academic and professional background qualify you as the best person to guide me through the recovery process?
How long will it take to heal, and will I make a full recovery?
The above questions will help you determine the course of action to follow guided by your physiotherapist. For example, do you simply want to be pain-free, or are you aiming to be ready for sports-specific or other specialized physical activity? Your goals will influence the duration and intensity of your exercise schedule. You and your physiotherapist will will create your 'recovery programme' goals.
All physiotherapists in private practice are governed by a body or association that sets and enforces guidelines to protect the public. Here in Australia it is the Australian Physiotherapy Association or APA. These guidelines cover safety issues, ethical care, privacy requirements (e.g. access to personal health records), and other aspects of the profession. Don't hesitate to inquire about professional conduct and your patient rights throughout your treatment.
​
Physiotherapists will ask questions and explain the rehabilitation process as you proceed. However, voicing your own questions can help you better understand your progress and correctly perform prescribed exercises.