Now midway through the cricket season and post the Christmas innings, our work at SecondOpinion.Physio continues to ensure people are able to remain active and healthy when playing cricket and their other chosen summer sports.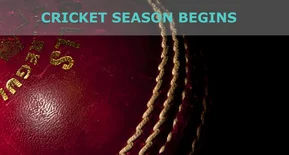 Most common cricket injuries are quads and hamstring muscle strains (1). That legendary West Australian bowler, Dennis Lillee came back from a horrible back injury in the seventies. This was a low back stress fracture (a.k.a. 'stressie'). We know now that fast bowlers are more at risk this type of back injury and other injuries overall compared to the rest of the cricket eleven (2).
Research funded by Cricket Australia has demonstrated a link between sudden  work load increases and injury risk (3). Doubling the workload in terms of bowling or effort compared to the players' average workload increased the risk of injury between 3.3-4.5 times.
An MRI scan study of fast bowlers and swimmers over a 2-4 year period identified that too much fast bowling was directly associated with bone stress, especially at the fourth lumber vertebra. For young bowlers (15-17 year olds), this involved the non-bowling arm side (3). Therefore timely treatment of the right kind is vital for the season and to prevent future problems.
This highlights the importance of gradual build up for anyone involved in exercise and sport-specific programmes. Developing the right muscle strength and technique is critical for ensuring bone and muscle health. If you have had a break over Christmas or are just starting your season, 'the reset button' on training is a good idea.
 
Key Points
Increases in workload above the average can significantly increase the risk of developing injurues.
Fast bowlers are at greatest risk for cricket injuries.
Correct bowling and sport technique is critical for ensuring the correct forces through the body.
The clinic offers cricket specific preventative screening to help identify and reduce the risk of injury.
Engstrom, C. M. & Walker, D. G. (2006). Pars interarticularis stress lesions in the lumbar spine of cricket fast bowlers. Medicine & Science in Sports & Exercise,39(1),
28-33.
2. Hulin, B. T., Gabbett, T. J., Blanch, P., Chapman, P., Bailey, D., Orchard, J. W. (2014). Spikes in acute workload are associated with increased injury risk in elite cricket          fast bowlers. British Journal of Sports Medicine, 48, 708-712.
3. Orchard, J., James, T., Kountouris, A., Blanch, P., Sims, K., & Orchard, J. (2011). Injury report 2011: Cricket Australia. Sport Health, 29(4), 16.
4. Ranson, C., Hurley, R., Rugless, L., Mansingh, A., & Cole, J. (2013). International cricket injury surveillance: a report of five teams competing in the ICC Cricket World Cup     2011. British journal of sports medicine, 47(10), 637-643.