The neck can be viewed as a collection of joints and muscles that support and move the head on neck. Of course, they also provide vital pathways of food, breath and nerve system function for our vital organs and extremities.
Neck muscles, joints, ligaments have a myriad of intricate sensors built in to feedback to the brain about balance and movement, not just of the head and neck but the whole body. Therefore we need to think of the neck also as organ of perception. The neck has a key role in perception of movement force, speed, direction and orientation of the body in space.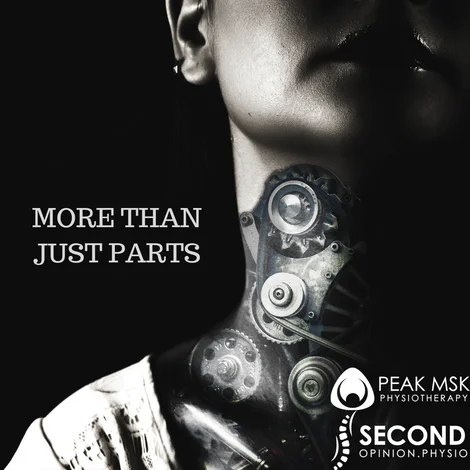 Feedback Loops
Feedback loops between the eyes, inner ear canals, the neck liaise with the control centres in the brain to keep our balance, enable us to walk or run with no visual jolting like a video cam and enable us to smoothly track moving objects of varying speed.
Neck pain
, joint stiffness, or neck muscle fatigue can interfere with these mechanisms leaving us to feel unsteady, in pain and other symptoms such as headache
(1)
 migraine
(2)
, visual disturbances, tinnitus, radiating arm pain or jaw discomfort to name a few of the symptoms. Neck pain is a leading cause of disability worldwide 
(3)
.
Reasoned help is at hand for every neck from physiotherapy!
Various
physiotherapy
treatments have beneficial effects in reducing pain and disability in the short and long term. These comprise movement techniques of the neck joints and nerve tissues called manual therapy. Specific exercise therapy is also beneficial in retraining, strength, endurance, contraction timing, and therefore control. For symptoms of unsteadiness and dizziness arising form neck problems, specialist head position and control retraining is used effectively in neck pain,
whiplash
and post-concussion
(7)
. Research into these treatments shows cost effective benefits with minimal risks 
(4)(5)
. Combining different physiotherapy treatments into a tailored individual programme based on clinical assessment is the best approach
(6)
.
1 ) Florencio LL et al. (2015): Headache: The Journal of Head and Face Pain
2) Florencio, LL., et al. (2019): Journal of Orthopaedic & Sports Physical Therapy
3) Vos, T., et al. (2017): The Lancet
4) Fredin, K., Lorås, H. (2017): Musculoskeletal Science And Practice
5) Coulter, ID., et al. (2019) Pain Physician
6) Fella, D., Hodges, PW. (2017) Exercise Sports Science Reviews
7) Schneider, KJ. (2019) Musculoskeletal Science and Practice