Did you know nerves can be quite thick structures lying alongside muscles and tendons thorough the arms, legs and trunk? Over the weekend I will be lecturing and teaching my fellow physiotherapists about them for the Australian
Physiotherapy
Association. Treating nerves and the pains from them (neural mobilisation) is something that has interested me throughout my career, and the techniques were developed by Australian physiotherapists. ​
sliding    gliding   bending
These 'peripheral' nerves are like flexible telescopes that can coil up, stretch out, slip, slide and change their shape to adapt to movement. Their internal make up and architecture allows this amazing flexibility and adaptability. So what can go wrong?
Nerves transport messages but also a variety of substances to muscles, joints, skin and every organ in the body. They can also be a source of pain themselves, just like any other body part. When their health is altered by injury, pressure, lack of oxygen or inflammation, they become less tolerant to flexing and sensitive to movement and pressure.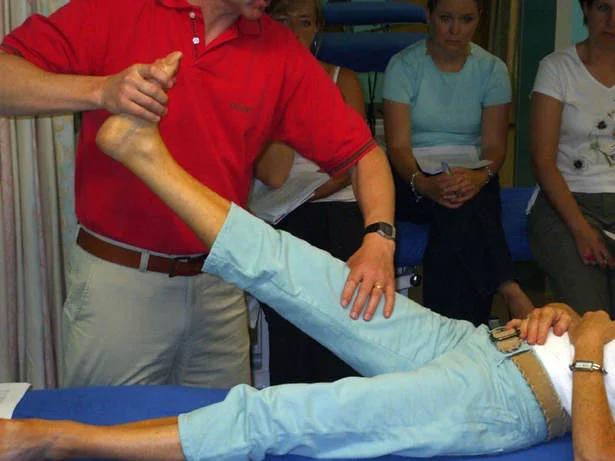 How Physiotherapy Benefits
​This scenario is seen in some musculoskeletal problems, such as sciatic (back and leg) pain, nerve root problems,  carpal tunnel and tarsal tunnel. We can help by providing movement to unload or protect the nerve, relieve aggravation, progressing towards normal nerve sliding  and recovery.
​
Systematic Review Research findings have shown efficacy in this for plantar heel pain, neck and low back / sciatic pain [1-2]. Other benefits have been associated with these techniques, but more research will be needed.What do these techniques do? Aside from relief of pain, effects on swelling, inflammation and tenderness, there is a benefit on flexibility. Often what is felt by people as muscle tightness is actually the muscle tensing to protect the sensitive nerve. This may be a good thing but may suggest an unhealthy nerve that requires careful handling and treatment. Laboratory research findings suggest there may be positive anti-inflammatory effects as well and this is undergoing more research.
[1]    Basson A, Olivier B, Ellis R, Coppieters M, Stewart A, Mudzi A 2017 The effectiveness of neural mobilization for neuromusculoskeletal conditions: a systematic review and meta- analysis.   Journal of Orthopaedic and Sports Physical Therapy 47 (9): 593-615.
​[2]     
 Neto T, Freitas S, Marques M, Gomes, L, Andrade R 2018 Effects of lower body quadrant neural mobilisation in healthy and low back pain populations: a systematic review and meta-analysis.  Musculoskeletal Science and Practice 27: 14-22.