Have you ever heard someone say, "I like to run when my achilles lets me"? We do. This statement is a powerful image of the problem for rehabilitation. There are other tendons too; The patella tendon, the rotator cuff tendon and those of the wrist and elbow also come to mind. But for now, let me walk you back a bit.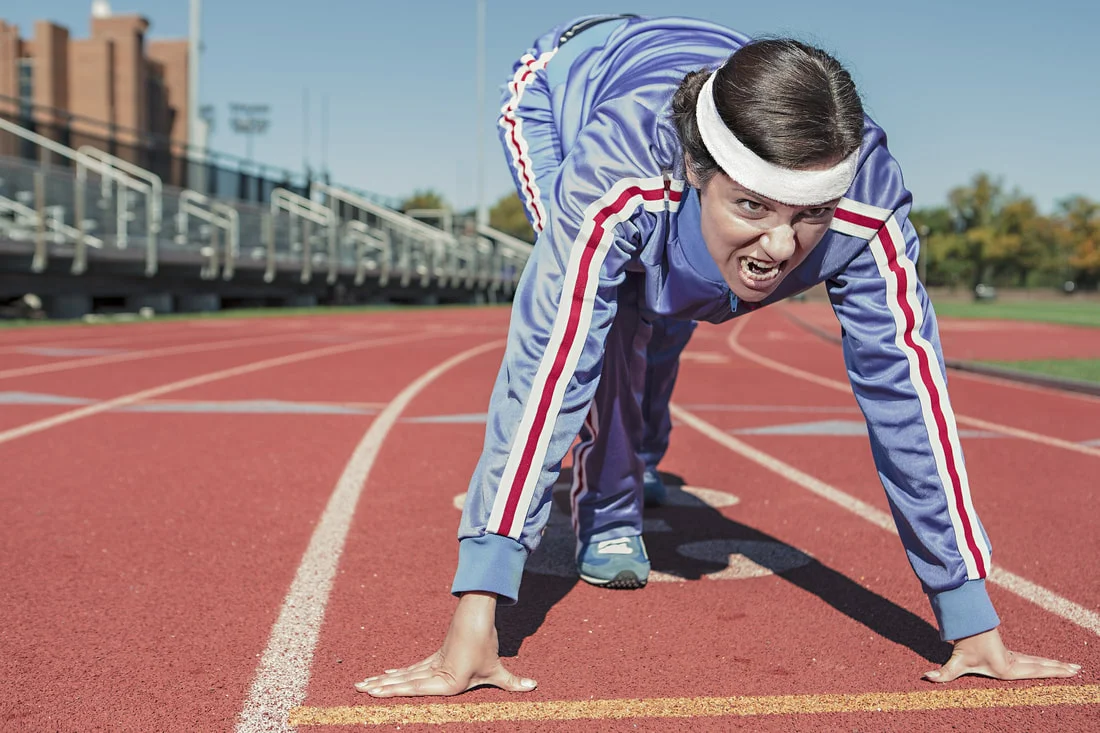 Fling it!
What is a tendon? It joins muscle to bone. It also stores energy. So, jumping running and for the upper body, batting and return serve all harness that ability to store energy like a wound-up spring.
Why does tendon hurt? Good question. The reasons are not completely understood, yet. Some of what we do know about tendonopathy:
If you are active then we know that there is a failed response to recover. This is important for repetitive loading: too much action and not enough down time to recuperate can be part of the cause.
Awkward moving patterns cause shearing, squishing or friction within the tendon and irritate it.
If you are inactive then your cell metabolism (aka chemistry) may be involved. People who suffer diabetes or weight gain show disturbed tendon metabolism.
We achieve a "different kind of youth" as we accumulate the years, our tendons do change their makeup. But that is OK, because we "recycled teenagers" still have normal tendon tissue somewhere to work with.
The appearance of a tendon on a scan does not predict how much pain a person is in form the tendon. Fear, fatigueable muscles and poor coordination may have a bigger role than any scan.
---
So what counts in tendon problems and what is the go with rehab? Well four things are important and three you will know:
1) Strength 2) Load 3) Kinetic activity (how the whole limb moves) and 4) The Brain. And research shows that Brain is as big a factor as Braun, sorry Arnie!
In composing a rehabilitation plan a
physiotherapist
will look at the first three tendon related factors but also, we must examine the cortical drive. Cortical drive could be called muscle memory, motor control or brain training.
Physio researchers at LaTrobe University has shed light on this in recent times. In tendon pain the brain is like a learner driver, it makes the muscle contract completely or not at all and it peters out very quickly. The result is that the tendons are loaded in an awkward way that affects its metabolic health. Think of learning to drive and all the bunny hops (or donuts) you did. Imagine what it did to the engine!!
Dr Ebonie Rio with her team demonstrated (1) that static hold (isometric) exercise can be not just train muscle but be pain relieving. This is because it activates the brain to relieve pain (the brain has a drug cabinet called endorphins) and it reshapes that activation pattern of muscle not to be stop-start but flowing, undulating, oscillation. I often say to people their muscles are like an orchestra and this another example. Even better, loading and ramping up to the non-painful limb has neural carry over to your recovering tendon side.
---
Rehabilitate, Recover, Play
---
So if you have a tendon problem, physiotherapy is the choice for an expert rehabilitation programme for brain and braun with a scientific approach to recovery. This is achieved by:
Progressive loading.
Movement retraining.
Neuroplastic training (the brain part)
Work towards strong, springy actions with stamina.
It takes time and patience, we teach you to physio yourself and you will get there.
See you on the track, or court! Have an active weekend!
---
1. Rio, E., Kidgell, D., Purdam, C., Gaida, J., Moseley, G., Pearce, A. and Cook, J. (2015). Isometric exercise induces analgesia and reduces inhibition in patellar tendinopathy.